Anupamaa: Kavya gets reality check Vanraj refuses to divorce Anupama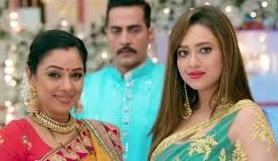 Anupamaa: Vanraj speculates returning back to Anupama ditching Kavya
Star Plus popular daily soap Anupamaa is going through major changes in the story.
Anupama is now on her own as Vanraj has disowned the family and has moved on with Kavya.
Vanraj was assuming that Anupama will break and fall on his feet after this, while Anupama appears stronger.
Anupama is going through financial crisis and she doesn't loose hope and takes charge to fight it out again and strongly.
Here Anupama takes charge to find a job and work hard for family, while Kavya is standing on Vanraj's head to divorce Anupama.
Vanraj and Anupama's togetherness resumes
Vanraj who is used to all pampering by Anupama is feeling lonely with Kavya as she isn't ready to pamper and spoon feed Vanraj at any cost.
While here major chaos unfolds as Vanraj rethinks of returning back to Anupama and finally lashes at Kavya that he will not divorce Anupama.
Stay with us for more exciting updates.
Anupamaa (Rupali Ganguly), Kavya (Madlasa Sharma), Vanraj (Sudhanshu Pandey)