Ishq Mein Marjawan 2: Kabir finds Vihaan's achilles heel Riddhima's game over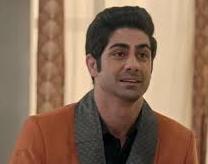 Ishq Mein Marjawan 2: Kabir discovers Vihaan's weak link, twist in tale awaits for Riddhima
Colors popular daily soap Ishq Mein Marjawan 2 is one of the best drama on television with suspense and twists.
Riddhima has got Vihaan home to get rid of Kabir and his evil motive and she has managed to do that to some extent.
Vihaan and Riddhima has successfully managed to take the leap and defeats Kabir in his own game.
Vihaan defeats Kabir in basketball trap he had set for him, Riddhima is happy that everything is going smooth.
Kabir and Vihaan's face off
Kabir is fuming in anger and rage over the defeat and knows that he isn't Vansh but couldn't find way to knock him down.
Riddhima and Vihaan plans their next move while here Kabir gets hand over Vihaan's weakness and things will start to backfire.
stay with us for more exciting updates.
Kabir (Vishal Vashishtha), Riddhima (Helly Shah), Vihaan (Rrahul Sudhir)