Anupamaa: Anupamaa shocked on Pakhi's move towards Kavya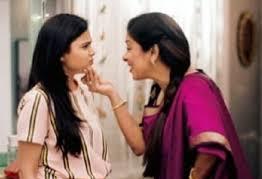 Anupamaa: Pakhi decides to move in with Vanraj Kavya Anupama in shock
Star Plus popular daily soap Anupamaa is gearing up for interesting twist and drama.
Anupama is trying her best to manage house and family, Bapuji is with Anupama in this.
While Kavya leaves no opportunity to create trouble, Kavya is now in her defensive avatar and can't let Vanraj return back to Anupama.
Kavya knows that best way will be to snatch Vanraj's kids and get them on her side and thus her first target is Pakhi.
Pakhi and Kavya's deal
Kavya influence Pakhi and pampers her to take the decision to leave Shah mansion and move with them.
Pakhi falls in the perfect trap and takes decision to leave Shah mansion and move with Kavya, Vanraj.
Anupama is taken a back by Pakhi's this decision while she don't want to stop Pakhi against her wish and asks her to go if she wish to.
Anupamaa (Rupali Ganguly), Vanraj (Sudhanshu Pandey), Kavya (Madlasa Sharma)