Yeh Un Dinon Ki Baat Hai: Bela Anand's new syappa confuses Sameer Naina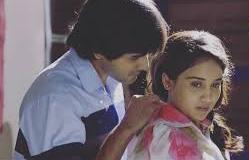 Yeh Un Dinon Ki Baat Hai: Bela, Anand's new syappa confuses Sameer (Randeep Rai) and Naina (Ashi Singh)
The upcoming episode of Sony Entertainment Television popular daily soap Yeh Un Dinon Ki Baat Hai is up for high volatge drama.
Sameer and Naina had bitter time when Mama and Mami came to stay with them and big blunder is created.
Mama and Mami tags Naina as careless and Sameer, Naina is in much trouble thinking that if they really put this marriage stuff too early.
Bela and Anand now comes to meet Naina and Sameer, Bela scolds Naina for being messy and ruling over Sameer as earlier.
Bela and Anand's new syappa
Bela asks Naina to not dominate over Sameer and rather let Sameer take dominant side in relationship.
Anand on other hand asks Sameer to understand Naina if she taking charge of this relationship and is dminant one then he should support her.
Sameer and Naina's confusion gets heightened after Bela and Anand's this confusing statements, stay tuned for more exciting updates of the upcoming episodes only on serialviews.com
Sameer (Randeep Rai), Naina (Ashi Singh)