Ghum Hai Kisi Ke Pyaar Mein: Sayi stops Bhavani Kaku from leaving house Virat glad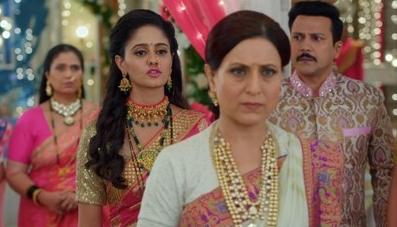 Ghum Hai Kisi Ke Pyaar Mein: Smart Sayi (Ayesha Singh) stops Bhavani Kaku from leaving house Virat (Neil Bhatt) glad
The upcoming episode of Star Plus serial Ghum Hai Kisi Ke Pyaar Mein will showcase interesting twist and turn.
It seems Bhavani Kaku insults Sayi and her father Kamal Joshi.
Sayi loses her temper, and she gets insulting Bhavani Kaku before everyone.
Hence, Bhavani Kaku decides to leave the house.
Pakhi disturbed with Virat Ashwini's liking for Sayi
Pakhi and Virat makes Sayi understand to not argue with elders much and this is the wrong way to speak back.
Sayi thus runs and stops Kaku.
Sayi handles Kaku well and clicks selfie with her too.
Virat smiles seeing the way Sayi handled Kaku.
Ashwini is also much impressed with Sayi.
While Pakhi is disturbed with everything.
Virat (Neil Bhatt), Sayi (Ayesha Singh), Pakhi (Aishwarya Sharma)