Shaadi Mubarak: KT Preeti's romance makes Nandini fumes in anger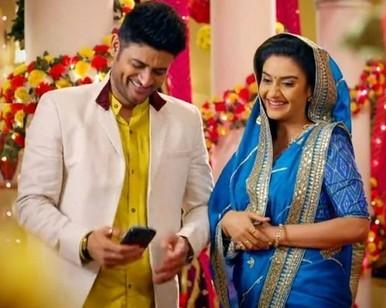 Shaadi Mubarak: Preeti (Rati Pandey) and KT (Manav Gohil) showcase romance making Nandini feel jealous
Star Plus popular daily soap Shaadi Mubarak is gearing up for interesting twist and drama.
Preeti and KT's life is moving ahead while Nandini is trying her best to infiltrate differences amid them.
Nandini taunts KT over not having a intimate relationship with Preeti and their relationship is namesake.
Preeti overhears this and thus uses it as her advantage and when Nandini was over a video call she flirts with KT.
Preeti hugs KT and shares romantic moment showcasing it to Nandini and Preeti's plan works fairly well.
Nandini and Preeti's face off
Nandini is super irked and is taken a back, Nandini fumes thinking that KT is moving ahead in life forgetting her.
What will be Nandini's next move and how will she plan to separate KT and Preeti.
Will Nandini get successful in her evil motives or will Preeti's love and determination for their relationship win.
Stay tuned for more exciting updates only on entertainment news website serialviews.com
Preeti (Rati Pandey), Kt (Manav Gohil), Nandini (Barkha Sen Gupta)