Choti Sardarni: Sarb-Mehar and Manav love triangle begins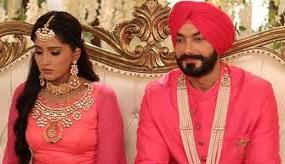 Choti Sardarni: Sarb confessed love for Mehar and Manav entry again will create mess
Choti Sardarni is one of the famous and most popular show of Colors Tv casting Mehar (Nimrat Kaur Ahluwalia) and Sarb (Avinesh Rekhi) in main lead.
As per latest resources in Choti Sardarni Mehar have to face more challenging problems and dramas as Manav will enter in Mehar and Sarb's life again
However where further before Manav's entry, Sarb will confess love to Mehar and also Mehar will accept Sarb's love, amid this Manav will enter in the show again.
Mehar's love for Sarab or Love for Manav will bloom again
While here major suspense is there where Mehar's love for Sarb is still there while Manav's entry will cook much drama mid Mehar and Sarb.
What will be Mehar's reaction seeing Manav back?
Excited to watch your favorite shows again on the tv, share your reviews in the comment box mentioned below.
Stay Tuned with us for more updates and exciting updates for your favorite shows.
Mehar (Nimrit Kaur Ahluwalia), Sarabjeet (Avinesh Rekhi), Param (Kevina Tak), Manav ( Hitesh Bharadwaj)