Ek Dujhe Ke Vaaste 2: Embarrassed Suman slaps Shravan in party details revealed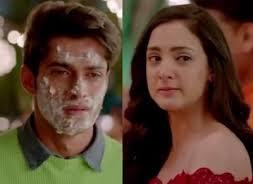 Ek Dujhe Ke Vaaste 2: Shravan and Suman break up ahead
The upcoming episodes of Zee TV's daily popular show Ek Dujhe Ke Vaaste season 2 will witness lots of shocking twist and turns.
It was earlier seen that Shravan (Mohit Kumar) will realize that he has fallen in love with Suman (Kanikka Kapur).
It seems that Shravan is mesmerized by Suman and her simplicity and keeps dreaming about her.
Interestingly Shravan and Suman will go to Aneesh's party and out there Suman will realize that Shravan wants to propose her.
Suman will get embarrassed and feels cheated as she thought that Shravan is not like other boys and truly cared for her.
Angry Suman will slap Shravan and kicks him out of her life forever.
Shravan heartbroken forever
Will Shravan and Suman be able to unite or not?
It will be interesting to see what will happen next in the show.
Stay tuned for more updates on Serialviews.com.
Shravan (Mohit Kumar), Suman (Kanikka Kapur)