Qurbaan Hua: Chahat replace Sarasvati in Viyas's life interestingly details revealed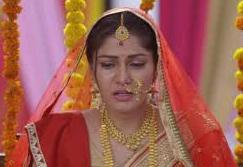 Qurbaan Hua: Chahat takes full command of house
The upcoming episode of Zee TV's daily popular show Qurbaan Hua is going to witness a lot of ups and downs.
It was earlier seen that Neil (Karan Jotwani) will get married to Chahat (Pratibha Ranta) forcefully.
Chahat will soon become an important and integral part of Viyas's life and will take Sarasvati's place in his life.
Viyas will become very fond of Chahat as she will obey him just like his daughter Sarasvti.
Chahat will remind Viyas about his daughter and hence he will connect with her emotionally.
On the other hand Neil will also start falling in love with Chahat.
Chahat finds soul mate in Neil
Will Neil be able to know the real truth or not?
Will Neil and Chahat be able to unite or not?
It will be interesting to see what will happen next in the show.
Keep watching Serialviews.com for more exciting news and updates.
Chahat (Pratibha Ranta), Neil (Karan Jotwani)