Beyhadh 2: Vikram stages drama in night club Maya in dilemma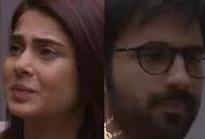 Beyhadh: Vikram act to convince Maya about their alliance
Popular revenge TV series Beyhadh 2 is going to see extreme drama and thrill in the upcoming story.
It was earlier seen that Rudra (Shivin Narang) is desperately searching for Maya (Jennifer Winget)everywhere.
He is unaware of the fact that Maya has lost her memory and kept as captive by Vikram.
On the other hand Vikram will take Maya to a night club where he will hire few people who will act as if they recognize Maya and Vikram.
Vikram has planned all this to make Maya believe that there are married couples.
Maya is dilemma as she doesn't know to follow her heart or mind.
Maya cross question Vikram
Will Maya be able to know the truth or not?
Will Vikram succeed in his mission or not?
Stay tuned for more exciting news and gossips on Serialview.com.
Maya (Jennifer Winget), Rudra (Shivin Narang)