Qurbaan Hua: Chahat prays namaaz in room Neil tensed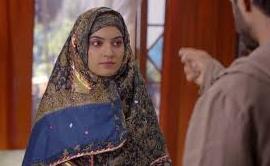 Qurbaan Hua: Chahat prayers makes Neil tensed
The upcoming episode of Zee TV's daily popular show Qurbaan Hua is going to witness a lot of ups and downs.
It was earlier seen that Neil (Karan Jotwani) will forcefully bring Chahat (Pratibha Ranta) to his house.
Shockingly Chahat will be in the room praying namaaz and that's when Neil will witness her doing so.
Neil will see his father coming to his room to meet Chahat and gets tensed.
He will lock his room and stops Viyas from entering it and meeting Chahat.
Viyas will feel that Neil is acting strange but will not think too much about it and moves on.
On the other hand Neil will see Chahat praying for the well being of her father and gets angry.
Neil hides Chahat from Viyas
Will Viyas be able to know the real truth or not?
It will be interesting to see what will happen next in the show.
Keep watching Serialviews.com for more exciting news and updates.
Neil (Karan Jotwani), Chahat (Pratibha Ranta)