Yeh Hai Chahatein: Rudraksh full proof plan to make Saransh future bright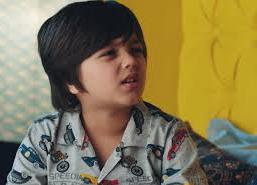 Yeh Hai Chahatein: Saransh happy with Rudraksh's move
The upcoming episodes of Star Plus' daily popular show Yeh Hai Chahatein will witness some major twist and turns.
It was earlier seen that Preesha (Sargun Kaur Luthra) and Rudraksh (Abrar Qazi) are together taking care of Saransh.
Saransh always wanted to go to a good school but Preesha is not able to get him admitted to a good school.
Rudraksh will hence brew a plan to get him admitted in Ahana's school.
He will indirectly manipulates Ahana and not inform that he wants Saransh to go to her school.
It seems that Rudraksh will soon inform Saransh that he has got him admitted back to his old school.
Rudraksh wins Saransh's heart
Will Preesha and Rudraksh be able to unite or not?
It will be interesting to see what will happen next in the show.
Keep watching Serialviews.com for more exciting news and updates.
Preesha (Sargun Kaur Luthra), Rudraksh (Abrar Qazi)