Yeh Un Dino Ki Baat Hai: Sameer's attempt of romance Naina turns spoil sport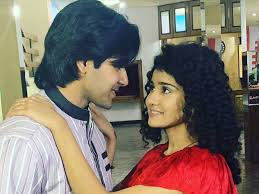 Yeh Un Dino Ki Baat Hai: Sameer's (Randeep Rai) attempt of romance, Naina (Ashi Singh) turns spoil sport
The upcoming episode of Sony Entertainment Television popular daily soap Yeh Un Dino Ki Baat Hai is up for high voltage drama.
Sameer and Naina's honeymoon seems to turn tragic as Naina in no way allows Sameer to get closer to her.
Sameer makes yetanother plan which is that here he plans to share drinks with Naina and set the mood on for romance.
Sameer's attempt of romance flops
Naina is just befooling Sameer and is not drinking the alcohol and thus Sameer tries to get closer while Naina sets him away by all means.
Sameer's dream of having romance with Naina and his honeymoon aspirations seems to vanish.
Stay tuned for more exciting updates of the upcoming episodes only on serialviews.com
Sameer (Randeep Rai), Naina (Ashi Singh)