YRHPK: Mishti's allegations over Ved Meenakshi takes bitter decision against Mishti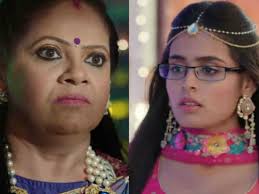 Yeh Rishtey Hain Pyaar Ke: Mishti's allegations over Ved, Meenakshi's (Rupal Patel) bitter decision against Mishti (Rhea Sharma)
Star Plus popular daily soap Yeh Rishtey Hain Pyaar Ke is gearing up for new drama and twist.
Mishti is trying to expose evil Ved's truth and save Ketki's life, Mishti is not ready to let Ketki suffer.
Mishti thus takes new disguise and gets in action to save Ketki by exposing Ved and puts allegations over him.
While Ved's family gets too angry over the fact Mishti is putting allegations over them and Meenakshi stands against Mishti.
Meenakshi and Mishti's new syappa
Meenakshi tells Ved's family that if Mishti will be proved wrong then she will apologize to them infront of all.
Mishti is ready to do anything to save Ketki's life and takes up this challenge to defeat evil Ved and save Ketki.
Stay tuned for more exciting updates of the upcoming episodes only on serialviews.com
Mishti (Rhea Sharma), Meenakshi (Rupal Patel)