Yeh Hai Mohabbatein: Rohan's cheapest move against Aliya Yug bursts in anger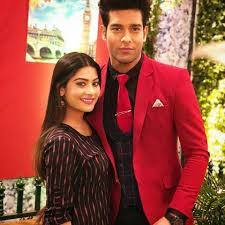 Yeh Hai Mohabbatein: Rohan's (Abhishek Malik) cheapest move against Aliya (Krishna Mukherjee), Yug bursts in anger
Star Plus popular daily soap Yeh Hai Mohabbatein is gearing up for new dhamaka in charity dinner.
Ruhi and Aliya had came to attend charity dinner and Rohan is all decked up to execute his evil mission.
Rohan plans to spike Aliya's drink and thus make her go unconscious so that he can take advantage of her.
Rohan wants Aliya to accept him by hook or by crook as he just wants Aliya.
Yug and Rohan's big fight dhamaka
Yug finds something fishy as Ruhi informs him that Aliya is missing and no one could find her in party.
Yug thus gets doubtful over Rohan and rushes to find him and thus saves Aliya from Rohan's cheap attempt and beats up Rohan while Ruhi and Karan are shocked to see what Rohan was trying to do.
Rohan (Abhishek Malik), Aliya (Krishna Mukherjee)