Yeh Hai Mohabbatein: Kiran catches Ishita aka Shaina red handed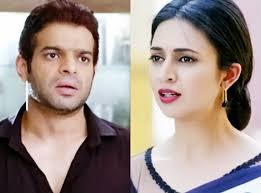 Yeh Hai Mohabbatein: Kiran (Amita Yadav) catches Ishita (Divyanka Tripathi) aka Shaina red handed
The upcoming episode of Star Plus popular daily soap Yeh Hai Mohabbatein is up for new drama and twist.
Ishita aka Shaina has already created much hustle in the lives of Bhalla family, Raman and family are puzzled over Ishita's behavior.
Here Shagun has also found something fishy with Ishita's behavior and notices diamonds in her denture box.
While this doubt of Shagun gets to hands of Kiran as she learns shocking truth as she gets a diamond.
Kiran catches Ishita aka Shaina's lie
Kiran gets the diamond which had been dropped by Shaina mistakenly and Shaina is trying to get the diamond while Kiran is after Shaina to find reality.
Kiran's search of truth will land her in big trouble as Shaina and Sahil are too dangerous to handle.
Stay tuned for more exciting updates of the upcoming episodes only on serialviews.com
Kiran (Amita Yadav), Shaina (Divyanka Tripathi)