Qurbaan Hua: Chahat Baiq picture lands next to Viyas Neil screwed up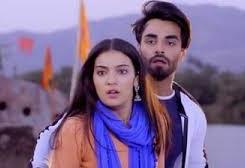 Qurbaan Hua: Chahat and Baiq photo misplaced
The upcoming episode of Zee TV's daily popular show Qurbaan Hua is going to witness a lot of ups and downs.
It was earlier seen that Neil (Karan Jotwani) and Chahat (Pratibha Ranta) are constantly fighting with each other to prove their point.
Shockingly Chahat will see a picture of her with her father and gets emotional.
Shockingly the photo will get misplaced and will land next to Viyas.
Neil will see Chahat and Baiq photo next to his father and gets tensed.
He will try to divert his father's attention so that he can take the photo out of his sight.
Chahat life in danger
Will Viyas be able to know the real truth or not?
It will be interesting to see what will happen next in the show.
Keep watching Serialviews.com for more exciting news and updates.
Neil (Karan Jotwani), Chahat (Pratibha Ranta)