Patiala Babes: Babita's business proposal for Khatri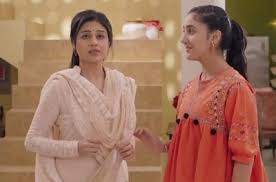 Patiala Babes: Babita's (Paridhi Sharma) business proposal for Khatri
Sony Entertainment Television popular daily soap Patiala Babes is up for new drama and twist.
Babita had bitter clash with Minni and had burst over her, Babita has put restrictions over Minni.
While Hanuman makes Babita understand that things may not be according to them but she must not stop Minni from flying high.
Babita realise her mistake and apologize to Minni for what all happened and now she has bigger trouble to face.
Babita needs funds for her kitchen business and thus goes to Khatri to seek help.
Babita's business proposal for Khatri
Babita proposes her business proposal to Khatri to make him invest money in her business.
Will Khatri agree to give money to Babita or will he again try to take advantage of Babita.
Stay tuned for more exciting updates of the upcoming episodes only on serialviews.com
Babita (Paridhi Sharma), Minni (Ashnoor Kaur)