Kundali Bhagya: Karan Preeta's secret romance on holi irks Monisha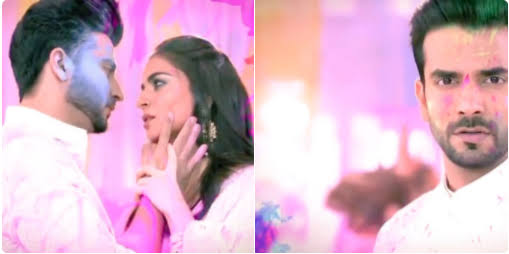 Kundali Bhagya: Karan (Dheeraj Dhoopar) and Preeta's (Shraddha Arya) secret romance on holi irks Monisha
The upcoming episode of Zee TV's popular daily soap Kundali Bhagya is up for high voltage drama.
Karan and Preeta are trying to prove Ridhabh's innocence and expose evil Sherlin's bitter trap.
Sherlin has perfectly trapped Rishabh and thus Rakhi has organised wedding in 15 days.
While amid the holi celebrations Karan and Preeta had color challenge and thus ends up getting closer.
Karan and Preeta's holi celebration irks Monisha
Major drama will unfold as Monisha will mark her return in their life to take revenge and this time she is more deadly.
Monisha wants to take revenge from Karan, Preeta for sending her to jail for no reason as she hadn't murdered Ritvik.
Stay tuned for more exciting updates of the upcoming episodes only on serialviews.com
Karan (Dheeraj Dhoopar), Preeta (Shraddha Arya)