Gathbandhan: Savitri Mai suffocates in Dhanak's goodness trap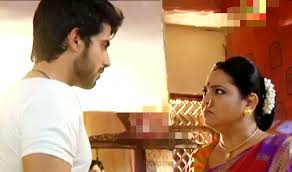 Gathbandhan: Savitri Mai (Sonali Naik) suffocates in Dhanak's (Shruti Sharma) goodness trap
Colors popular daily soap Gathbandhan is up for major drama and twist.
Dhanak is now don and has taken all charge while she is doing all this with her new mission in mind.
Dhanak wants to get Savitri out of criminal world and turn her to goodness way.
Savitri is suffocating in Dhanak's this goodness trap as she has done this for years and now it is her lifestyle.
Dhanak and Savitri's new mission
Savitri thus tries ways to escape and go to collect hafta and do what she does but Dhanak will not let this happen.
What will Dhanak do to get Savitri out of this mess and will she get successful in her mission as Savitri Mai is not an easy cup of tea.
Stay tuned for more exciting updates of the upcoming episodes only on serialviews.com
Dhanak (Shruti Sharma), Raghu (Abrar Qazi), Savitri (Sonali Naik)