Gathbandhan: Savitri's burqa syappa escaping Dhanak's goodness torture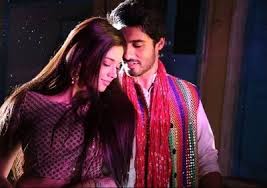 Gathbandhan: Savitri's (Sonali Naik) burqa syappa escaping Dhanak's (Shruti Sharma) goodness torture
The upcoming episode of Colors popular daily soap Gathbandhan is up for high voltage drama and twist.
Dhanak is now don and her soul mission behind taking this responsibility was to get Savitri back on right path.
Dhanak wants Savitri to choose goodness way and leave criminal line, while Savutri is addicted to it.
Savitri's burqa syappa
Savitri has been doing this since long and thus it is want she knows and thus takes up an opportunity to escape from the house to collect hafta.
Savitri knows that Dhanak will not let her go and thus she wear burqa to hide herself and tries to escape from Dhanak's goodness torture.
Will Savitri get successful in escaping as Dhanak has her eye over Savitri and how will Savitri handle all this.
Raghu (Abrar Qazi), Dhanak (Shruti Sharma), Savitri (Sonali Naik)