Gathbandhan: Raghu rushes Dhanak to hosiptal life and death situation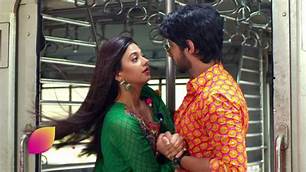 Gathbandhan: Raghu (Abrar Qazi) rushes Dhanak (Shruti Sharma) to hosiptal life and death situation
The upcoming episode of Colors popular daily soap Gathbandhan is up for high voltage drama.
Dhanak and Raghu's life takes shocking turn where Raghu gets in action to find his Dhanka and save her.
Raghu reaches Bablu's den and warns him to leave Dhanak as she is not invoved in all this and is innocent.
Raghu is shattered when Bablu shoots Dhanak to death, Dhanak falls on floor infront of Raghu and he is all stunned.
Raghu rushes Dhanak to hosiptal
Raghu rushes Dhanak to hospital and here doctors call off for police case whie Raghu fights with them and asks them to first treat Dhanak.
Dhanak is fighting amid life and death situation and Raghu feels guilty that it's all happeneing because of his criminal past.
Stay tuned for more exciting updates of the upcoming episodes only on serialviews.com
Raghu (Abrar Qazi), Dhanak (Shruti Sharma)