Aapke Aa Jane Se: Sahil Vedika's beginning of reincarnated love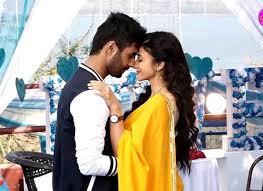 Aapke Aa Jane Se: Sahil (Karan Jotwani) and Vedika's (Suhasi Dhami) beginning of reincarnated love
Zee TV's popular daily soap Aapke Aa Jane Se is gearing up for more drama and twist with reincarnation dhamaka.
Sahil and Vedika are dead and now they will have a reincarnation and will return in each others life.
The plot will change but the story will stay the same where Vedika is a widow and mid aged lady.
Sahil will get attracted to Vedika and will fall for her and the society will again turn hurdle in their way.
Sahil and Vedika's love syappa
The society will stand against Vedika and Sahil's this love story and again the battle of love will begin for them.
Sahil and Vedika will take forward their love but will receive much backlash, the story will be same but with twist of new challenges.
Stay tuned for more exciting updates of the upcoming episodes only on serialviews.com
Sahil (Karan Jotwani), Vedika (Suhasi Dhami)